Around midnight last night, the web started receiving word that everyone with a 30 gigabite Zune, Microsoft's response to Apple's iPod line, had experienced their device crashing and refusing to restart. The first thing people thought was that this was the Y2K bug all over again (somehow).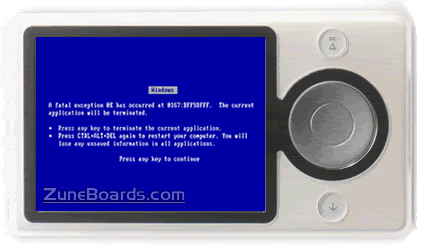 After a little bit of poking around, I found that Microsoft did in fact release a statement on the subject, informing its customers that the problem was caused by the device not handling leap year correctly. Imagine that.
There are a few things you  need to do to get your Zune up and running again, claims Microsoft;
Let your Zune's battery drain completely.
Wait a day or so.
Recharge your Zune completely.
It should (hopefully) be fine at noon tomorrow (12:00, GMT). 
Apparently, desperate measures were taken to get the Zune back up and running, including prying the back off of the device and messing around with its innards. I can't say I own a device; as much as i love my PC, I do, in fact, use an iPod Touch.